In iOS 8, Apple is adding some new Core Location features that let app developers get precise indoor positioning data from an iOS device's sensors and it's even letting venues contribute by signing-up to get help enabling indoor positioning.
In iOS 8, Apple will still be using Cellular, GPS, and WiFi to get you to the venue, but once you're approaching a location that is enabled for indoor positioning, it will scan over wifi, tap into the device's sensors like the M7 chip and provide accurate data of exactly where you are and how fast you're moving through the floor plan. Once indoor positioning kicks in, Apple turns down the GPS chip in the device in order to conserve power. The feature requires WiFi, an unlocked device, and will rely on RF parametric data from the venues in addition to the device's sensors.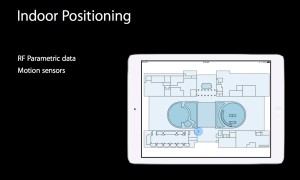 It's making all of the data available to developers through the same CoreLocation API and apps already requesting best accuracy for location will automatically start seeing improved indoor positioning. iOS 8 also adds the ability to display floor number to the CoreLocation API. In one example, imagine an app that lets you order a drink at a venue and have staff find your exact location even if you're moving throughout the area on multiple floors.
The indoor positioning features have already been enabled at three venues that we know of including the California Academy of Sciences in San Francisco, the Westfield San Francisco Centre, and the Mineta San Jose International Airport. Apple expects to add many more venues in the coming months as more property owners signup to enable the technology. Interested venues can sign-up through Apple's iOS developer channels and get assistance with the process. It's unclear exactly what venues will have to provide to Apple, but the company did say it relies on RF parametric data and asks for floor plans in various file types.